Sunbird colouring cards set of 3
Regular price

Sale price

R 100.00
A  sunbird themed colouring card set! The perfect way to add your own touch to any gift or as a gift them selves. 
This pack includes: 

3 colouring cards in three designs
3 black envelopes 
The cards are left blank insode for personalize on any occasion.
Locally printed on 300gsm paper. Softer colouring in pencils or copic markers work the best.  
Shipping

We Offer Fast Shipping To Your Door

Shipping Cost:

R250 On All Orders Under R300
R99 On All Orders Over R300

Free Shipping: All Orders Over R 5000
Payments

We do offer save and secure payment gateways for your conconvenience. Use PayFast or Manual EFT at checkout to secure your order.
Hurry, only 3 painting slots available!
Share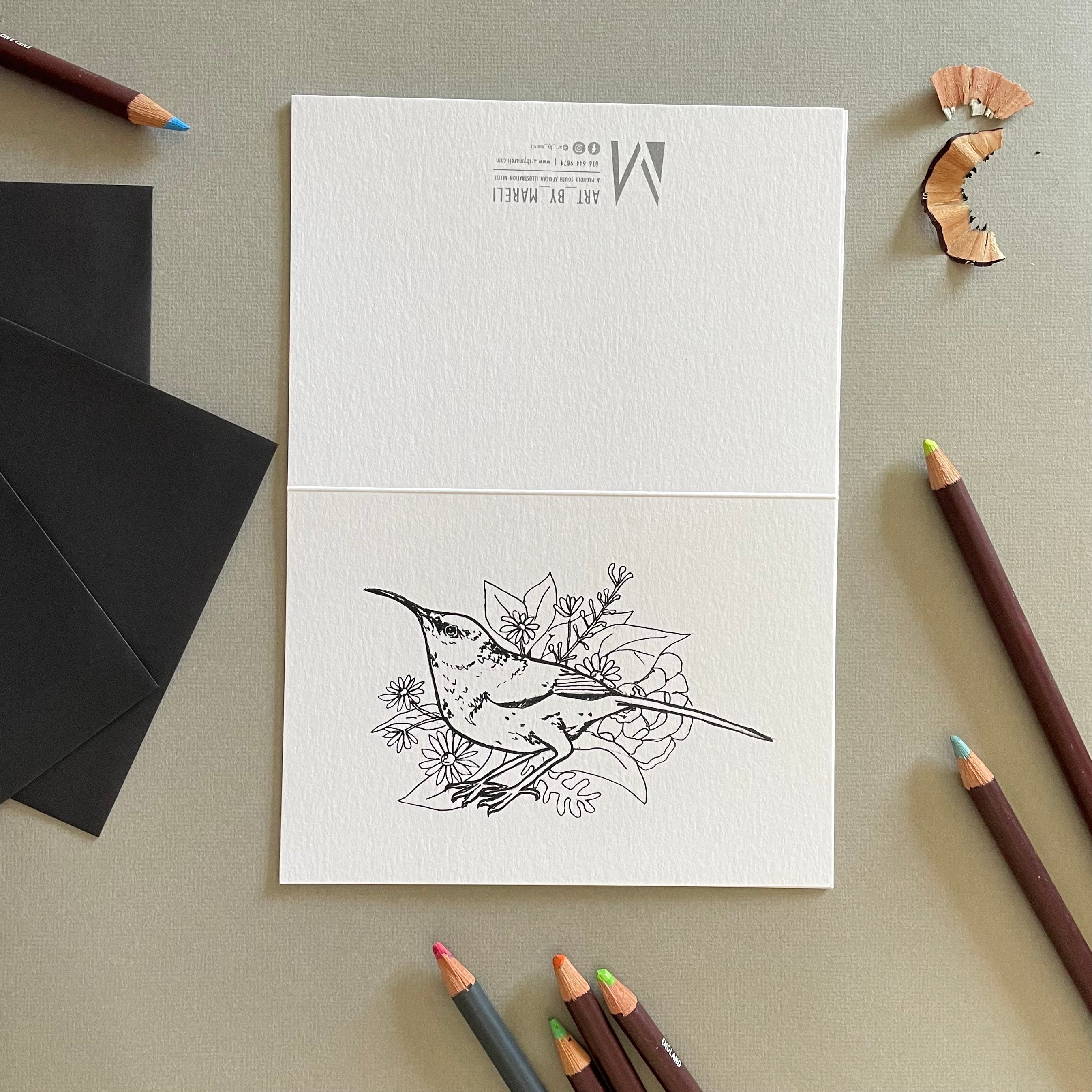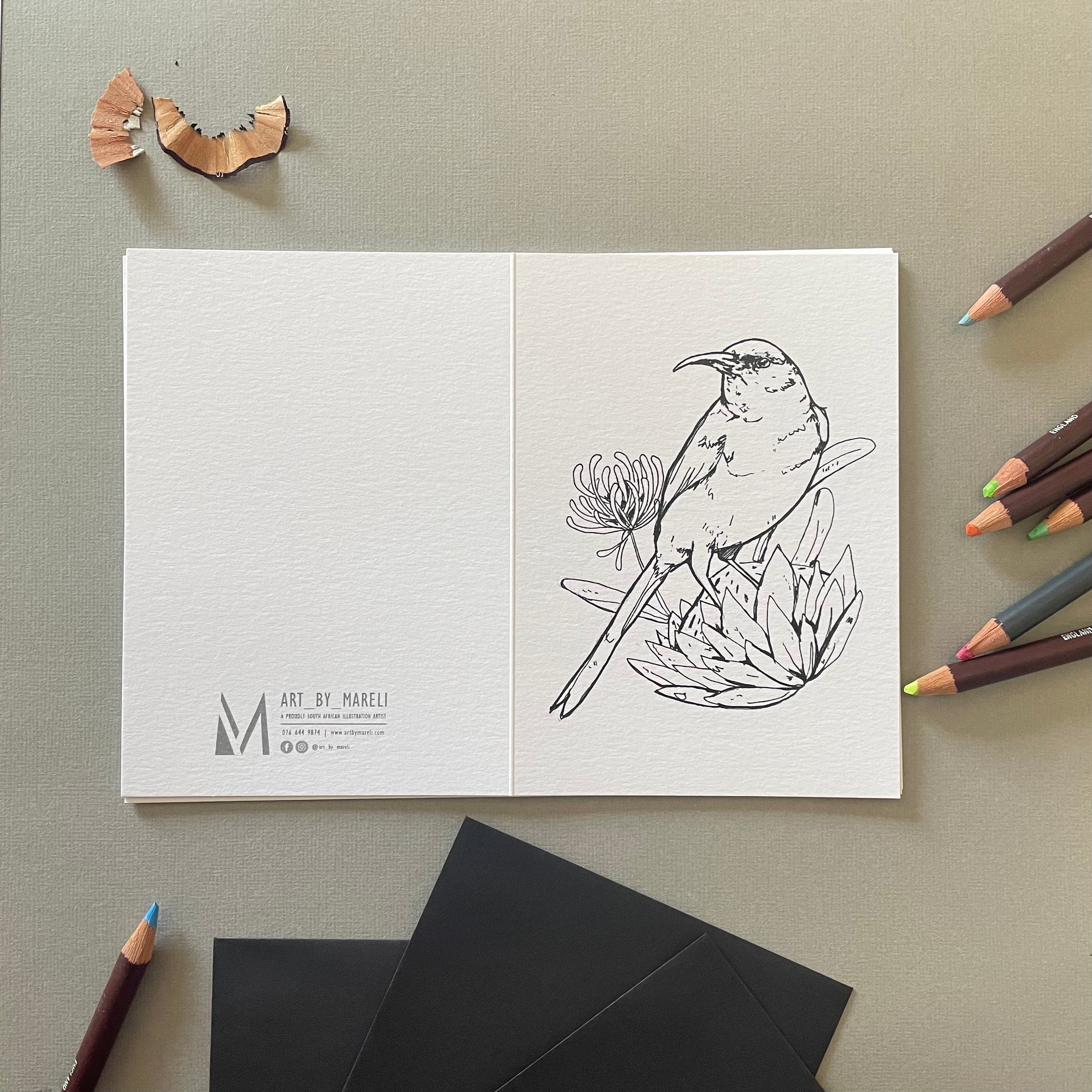 Fast Shipping

We Offer Fast Shipping To Your Door.

Secure Payments

We Offer Both PayFast And Manual EFT Payment Gateways.

Safe Checkout

3D Secure Checkout System For Maximum Security.
Colour Care
Step One

The first tip seems obvious but it's the most important! Watercolors always need to be framed behind glass. Watercolors are done on paper which will deteriorate very fast if left in the open. Also, the paper is never given a water-resistant coating prior to being painted because it will make the application of colors difficult.
Step Two

Hang the painting away from Light, paintings in watercolor are particularly vulnerable to the effect of external factors like light and humidity. Never hang your painting opposite a window or on a wall where it is exposed to full sunlight for the most part of the day. This will cause colors to fade and the paper to become brittle.
Step Three

All places in your home are not suitable to hang art. Keep the watercolor away from heat, oils, odors, and moisture in the kitchen. Also do not hang them near heaters or other heat-emitting appliances because that will damage the color pigments permanently. The best tip from experts is to rotate the paintings periodically to protect them from over-exposure.
Step Four

It is important to make sure that there are no dramatic changes in the environment because they can damage the painting. You feel colder in museums and art galleries because their temperatures are set below 20 degree Celsius and the humidity is maintained between 50%-65%. You need not fret too much unless you have a 100-year-old watercolor to preserve.
Testimonials


LOVE IT! I can't believe how well you have captured my wife's soulful eyes and personality in the painting! She wanted me to say a BIG Thank you too you on her behalf. You are very talented!

Tiaan
Honestly - the difference is it's SO unique and you are so easy to work with. I cannot wait until our friends get their present and also for our artwork. You are amazing! Keep on keeping on x

Rinli
We LOVE your work!! Your attention to detail, the unique integration of the related elements and the use of colour are FANTASTIC!! Our only challenge has become - where do we find space for the next purchase?!

Author's name
Mareli, dankie dat jy uit jou pad uitgegan het om ons sketse te voltooi voor ons vertrek het New Zealand toe.

Uan
Morning Mareli 👋🏻 My bother in law is over the moon with his painting! He says he absolutely loves it!

Andre
Mareli is not only an artist but an inspiration of hope! Her paintings speaks of abundance, happiness and a life overflwing with joy.

Chantelle